Welcome to my website. It is a site about me and my interests.
I am British and an engineer educated in the UK who currently is living in the Bay Area, California on the Pacific coast of the USA. My CV or 'resume' can be downloaded in my biography section.
My interests are mainly in the active sports of life. In my hobbies section you will find links to aviation, diving, skiing and many of my other activities.
Hobbies usually lead to fun times and if you check out my 'fun times' link you will get to see photos covering many of these activities.
Interested in a British lesson?
Kristense; is my much better half. Occasionally she allows me to wear the pants in this relationship, but in all honesty she is probably much better at it.

She recently left working for Intel but is now made that transition to the Mac, now she works for Apple in Folsom, California, but is This is a 2 hour drive away from the Bay Area (5 on a Friday!) or a 30 min flight if I fly.

Check out her site using the link on the right.

Blah Blah Blah

Send me an email to:

webmail at the-brit dot com

Two little anti-spam features, you need to both type the email address into your mail program and add the subject 'nonespam' as the subject matter, else all mail to this address is automatically deleted.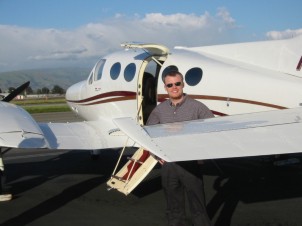 Cessna 414, this aircraft is a very nice machine, owned and very well maintained by Flybuff Aviation. Here can be seen pre-flight checks prior to a quick tour of the bay area coast line. More photos of this trip can be seen in the 'Fun Times' section.