Welcome to my 'funtimes'. This is a chronological account of times-fun, for a topic based account have a look at my hobbies section.
Be-aware that on some pages here, that depending on how 'click-happy' we were some pages maybe slow due to graphic content. Please also note that should web space become deficient, selected pages may be removed.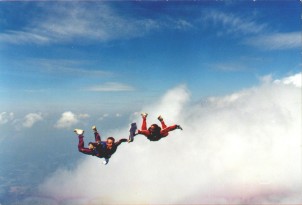 Skydiving was a regular weekend sport for me in the South of France while I lived Bordeaux. It was always so hot there that during the climb to altitude we always unzipped our jumpsuits. Here, I forgot to zip it up again here so you can see my weight belt hanging out - this then proceeded to slap me around until touch down.
Blue Skies.