Welcome to the only part of this website to be taken seriously.

Please note:
The downloads on this page may be opened with Adobe Acrobat others by Microsoft Word

Click to download.
Below is can be seen my full CV or 'resume'. It can also be downloaded here in both Adobe Acroba (*.pdf) and Microsoft Word (*.doc) formats.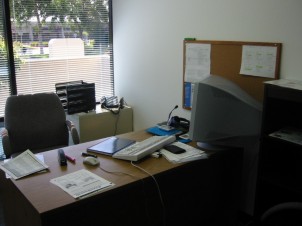 The Office. This is the epicentre to my working life.

Overview

I am experienced in global strategies, sales, marketing and management. Key experience in Asian, European and American markets.

Experience with the telecoms, consumer, automotive and toy markets.

A fully qualified engineer capable of delivering direct engineering input to all customer meetings thus giving a good and knowledgeable appearance of the company to the customer base while also generating meaningful feedback for the company.

Career experience has been in engineering, sales, marketing and management.

<![if !supportEmptyParas]> <![endif]>

Experience

<![if !vml]><![endif]>

2011 – Present Microchip Technology Los Gatos, CA, USA.

Roving Networks™ Product Marketer (2011 – Present)
Microchip Technology Inc. is a leading provider of microcontroller and analog semiconductors, providing low-risk product development, lower total system cost and faster time to market for thousands of diverse customer applications worldwide. Headquartered in Chandler, Arizona, Microchip offers outstanding technical support along with dependable delivery and quality.

Microchip acquired Roving Networks where I stayed on with them in the Silicon Valley Los Gatos office as an interface for the Microchip sales team ensuring performance goals continue to be maintained. The role required business development skills, public speaking and sales team development.

<![if !vml]><![endif]>
Director, Technical Sales & Cust. Marketing (Period 2011 – 2012)
Manufacturers of standards based (Wi-Fi™ & BT) wireless modules and chipsets

Prior to Roving's acquisition by Microchip Technology I was responsible for growing the company from a small design-for-hire company to a standards based module company. Responsible for building the sales channel, rebranding the company and modernizing corporate procedures.

<![if !supportEmptyParas]>

<![if !vml]><![endif]>

2003 – 2011 Silicon Labs Santa Clara, CA, USA.

EZRadioŽ/EZRadioPRO™ Product Manager (2003 – 2011)
Silicon Laboratories (NASDAQ: SLAB) is an industry leader in the innovation of high-performance, analog-intensive, mixed-signal ICs. Mixed-signal ICs enable the analog world we live in to interact with the digital world of computing.

Silicon Labs acquired Integration Associates where I stayed on with them in the Silicon Valley office as a product manager for the EZRadio/EZRadioPRO products for a further 3 years.

<![if !vml]><![endif]>



Director, Cust. Marketing & Bus. Dev. (Period 2003 – 2008)

Manufacturers of Mixed Signal, Analogue and RF IC's


Prior to Integration's acquisition by Silicon Laboratories, reporting directly to the CEO, I converted a small 70 person ASIC design company in to a 200 person+ standard products company. This role involved generating brand recognition and market presence, the most notable products included the award winning RF IC brand known as EZRadioŽ and EZRadioPRO™. The role required that I operate as the main corporate interface between sales/applications and engineering whilst also managing the off shore facilities. (Hungary, Portugal, UK and Hong Kong)

<![endif]>

<![if !supportEmptyParas]> <![endif]><![if !supportEmptyParas]> <![endif]>

Longer Term

<![if !supportEmptyParas]>

2002 – 2003 Silvaco Santa Clara, CA, USA.

Regional Sales Manager
Manufacturers of Analogue EDA Tools

1999 – 2002 Sensory Incorporated Santa Clara, CA, USA.

International Sales & Field Application Engineer
Manufacturers of Low Cost Speech Recognition ICs

and Embedded Software Solutions

1997–1999 Sequoia Technology Limited Reading, UK

Field Applications Engineer and Product Marketing Executive
Distributors of Niche Semiconductors

1994–1995 Laboratoire IXL Talence, FRANCE

Researcher

1994 Oceantec Liverpool, UK

Engineer

Education

1991 – 1996 Sheffield Hallam University Sheffield, UK

Bachelor Degree:
Beng(Hons) Electronic Systems and Information Engineering

(Sandwich Course; Year Three spent in Bordeaux France)

BTEC Higher National Diploma:


 

Engineering (Electronic & Electrical)

Completed with fourteen merits and three distinctions, primarily in Power Electronics, Programming, Microelectronic Systems, Digital Communications, CAE, CAD, Control, and Project Work.

1989 - 1991                   King George V College                Southport, UK

King George V College

Scarisbrick New Road, Southport, MERSEYSIDE, UK.

A-Levels:                 Computer Studies, Maths (Pure & Applied) & Physics (Syll. B)

G.C.S.E.:                 English

RSA:                        Computer Literacy & information Technology

1984 - 1989                   Formby High School Formby, UK

Formby High School

Freshfield Road, Formby, MERSEYSIDE, UK.

G.C.S.E.:

CDT Technology, Computer Studies, Mathematics, Biology, Chemistry, English Lit., Geography, Physics, Oral Communications

Status

Interests

Licensed private pilot and category 10 licensed skydiver

Winter sport enthusiast (Ski and Board)

Photography

Advanced SCUBA diving with additional mixed gas, boat and wreck diving endorsements

Professional Memberships

The Institute of Incorporated Engineers IIE

         

- Since 1993

The Institute of Electronics and Electrical Incorporated Engineers IEE - Since 1991

Member of the Young Members Steering Committee

-

   

'98 / '99

Publications

'Diagnosis of Multifaults in Analogue Circuits using Multilayer Perceptrons'

IEE Proc.-Circuits Devices Syst., Vol. 144, Nē. 3, June 1997.

'GPS for the masses wherever they are hiding…'

Components in Electronics, P6, June 1998.

I have also been acknowledged in a publication for my assistance. I translated the document from French to English for an IEE conference. The article was called, 'New Methods for Determining the Number of Effective Bits of an A/D Converter Based on Eigendecomposition'.
Interesting Career Quotes (LinkedIn, etc.)                     
VP, Operations at Roving Networks (formerly G2 Microsystems Pty Ltd)
Nick is a skillful engineer/marketing with deep knowledge in wireless Bluetooth and Wifi products...
January 24, 2013, Anthony worked with Nick at Roving Networks
Director at Silicon Laboratories
I was working with Nick for 7 years long. As our marketing manager he took care on defining the demo and reference designs for our wireless products. He took special care to the look and feel also to the out-of-box experiences. He was the main contributor in defining the SW suite our company provides with our reference designs (Wireless Design Suite). Nick also worked on...more
June 8, 2011, Ferenc worked with Nick at Integration Associates
In September 2000 I was invited to speak at a conference in Hong Kong, the following year my superior spoke, he had the following to say:
Wed 9/5/2001 6:03 AM
Hey Nick,
Just a quick note to tell you that everyone in Hong Kong is really impressed with you, your knowledge of our products, your enthusiasm and humor.
Several people at the seminar told me that they were looking forward to attending this year again to hear your speech as it was the best speech at last years - I had a lot to try and live up to.
Good work, keep it up and close those deals!
Jeff