4th August 2002
Cheryl and Eddie's Wedding.
South Lake Tahoe, California/Nevada State Line
Wedding Party
Cheryl and Eddie's wedding party, left to right: Amber, Rose, Kristense, Leslie, Cheryl, Eddie, Oscar, Javier, Nate, Robert, Jerry, and Frankie.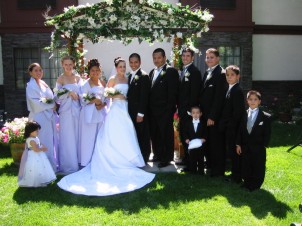 ---


Home | Biography | Fun Times | Hobbies | My Links | Contact Me
This page was last updated on Wednesday, 30 April 2003.
The contents of this web are copyright. People wishing to acquire any of the images contained should make a written request to copyrights@the-brit.com
Please note: This page is designed to work with Internet Explorer, some pages WILL NOT work correctly with other browsers, sorry but it was a decision based upon available time. If you wish to download IE click here.


Click to download.